LeadsLeap Review: Quality Traffic & Useful Tools!
LeadsLeap is so far one of the most used and known traffic sources nowadays. It's a must for any marketer to have an account in this site, since it is free to join, and help you to get very good traffic, and to use the most needed Internet Marketing tools ( Free trackers, rotators, list building pop-ups..).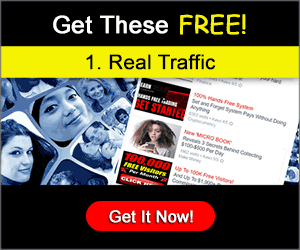 LeadsLeap helps you to generate traffic and leads (and you can contact them). Upgrade to PRO membership costs $27/month. If you decide to upgrade you can post up to  10 pro ads without the need to use ad credits so you have unlimited views of these ads and these ads don`t have an expiry date (like free ads).
Want to increase your blog traffic or get free leads or make some extra money building downlines?  Then LeadsLeap.com would be your online marketing solution for your business or to make some money for home-based work at home workers, as well as get traffic to your blog using credits you have earned through visiting members advertisement or paying advertising fees you want to promote on their marketplace.

The lead sharing system allows members to make money in three different ways without purchasing anything. Promote your business completely free with the LeadsLeap network of more than 4 thousand websites. Then, build your 10 levels downlines for free leads that will grow your traffic potentially. Finally, use their house tools to earn a competitive edge.
There is a TE Coop feature: members add PPC widget to their blogs or websites and on that way they earn when a visitor clicks on an ad inside LeadsLeap widget. Something like Google Adsense. The same thing is with ads presented in real tracker widget. You can check LeadsLeap ads on my blog on the right-hand side. In the same way, my ads will be seen on other websites. (6000+) The next very important feature is that members are credited for viewing ads every 5 seconds up to 3 minutes. That means your ad will not receive just a few seconds visitors like on most TE sites. Also, you will get Youtube views if you have video on your website or blog. These 2 features will increase rank on search engines.
Without a doubt; LeadsLeap is clearly my favorite source of quality, free traffic. LeadsLeap stands out of the crowd when it comes to attention to your ads. Instead of a timer, which most traffic exchanges use, visitors to your ad will receive more credits the longer they stay and interact with your advertisement. This is a VERY effective way of getting your ad noticed and majorly increases the chances of getting more leads and/or sales.